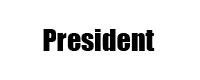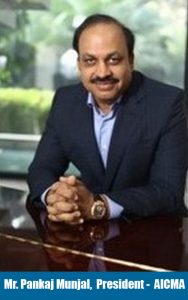 Mr. Pankaj Munjal, President, AICMA (Chairman and Managing Director, Hero Cycles)
Born into the Munjal family, which founded the Hero Group, Mr. Pankaj Munjal, has business acumen in his blood. Being a second generation Munjal business leader, he had a vision for expanding the family business and making "Hero'' a household name in India. He worked ceaselessly, surmounting challenges that came in his way, to translate that vision into reality. Today, Hero Cycles, which he heads, is the world's largest manufacturer of the environment friendly two-wheeler.
Armed with a graduate degree in Science and training in Automotive Manufacturing at General Motors Institute, Flint in USA, Mr. Munjal took on the reins of business. He also attended an executive program in Strategic Marketing Management at London Business School, Harvard University.
A firm believer in innovation and upgradation, over the years he has made sure that any new management concept, any new development in technology and any chance of expansion do not bypass the Hero Group.
As Chairman and Managing Director of Hero Cycles Ltd. he has taken the company to new heights. Today, Hero Cycles is the market leader in both standard and special bicycle segments in India, with an overall market share of about 36 per cent. It also exports to various countries in Middle East, Africa, Asia and Europe.
Under his able leadership, the company has been growing from strength and is constantly reinventing itself and expanding its portfolio. With the launch of its brand, UT Edge, in 2012, the company entered the premium bicycle segment.
In recent years, Mr. Munjal has been on an expansion spree and has spearheaded several acquisitions, enhancing the company's standing both in the Indian and the international market. Hero Cycles acquired a majority stake in the UK-based cycle distributor, Avocet Sports Limited, last year, which catapulted the company into the high-value European cycle market. Soon after, the company acquired Firefox Bikes, India's largest premium bicycle brand and cemented its position in the fast-growing premium cycling segment. This was followed by the acquisition of a majority stake in BSH Ventures, one of Sri Lanka's leading bicycle manufacturers.
On the automotive front, Mr. Munjal heads Hero Motors Ltd. to target the global automotive market with gears and transmission components for international customers like BMW, Bombardier, Harley Davidson etc. He is also present in the domestic automotive market with group companies – Munjal Kiriu Industries Pvt. Ltd. and ZF Hero Chassis Systems in joint venture with Sumitomo Kiriu of Japan and ZF of Germany respectively.
A cycling and biking enthusiast to the core, Mr. Munjal feels strongly about the need for developing cycling infrastructure in the country. He has been campaigning for creating cycle friendly cities and for empowering the masses of the country with an economical and healthy means of transportation –humble bicycle.
Mr. Munjal has been in the forefront of the "Cycle Valley'' project which aims to make Ludhiana, already a bicycle manufacturing stronghold, the world's highest high-end and electric-bike manufacturing hub with a capacity of 15 million bicycles a year.
Hero Cycles will be the anchor client and strategy partner for "Cycle Valley" which will be established in Ludhiana in association with China.
Mr. Munjal believes that there is great potential for the growth of cycle industry in India. It is based on the assumption, that there's a huge gap between the cycle and motor cycle segment with consumers paying Rs 4,000 on an average for a cycle and Rs 50,000 for a motor cycle. There's a huge market for competitively priced e-cycles costing Rs 10,000 and even premium bikes costing up to Rs 25,000.
Mr. Pankaj Munjal became President of AICMA (second time) in January, 2016. The President's consistent appeal to Bicycle fraternity read as "Crystalize your goals, make a plan for achieving them & set yourself a deadline. Then; I with supreme confidence, determination & disregard for obstacle & other people's criticism, carryout out your plan".