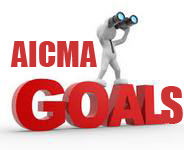 To attain 20 Million yearly bicycle production and 4 million exports by 2019.
To reverse reducing bicycle demand in Urban areas through smart cities, NUTP, State sponsored bicycle schemes and Sustainable Transport Initiatives.
To switchover to critical component making by 2018 and superior material making by 2020 through company /consortium initiatives .
To launch low cost and less effort e-bicycle by 2018 for differential segment with initial Govt support.
To upgrade bicycle R&D centre at Ludhiana to World class level through central schemes –ASIDE, UNIDO & CDS by 2017.
To assist vendors in their restructuring and revitalizing for cost reduction and quality improvements within 1-2 years.